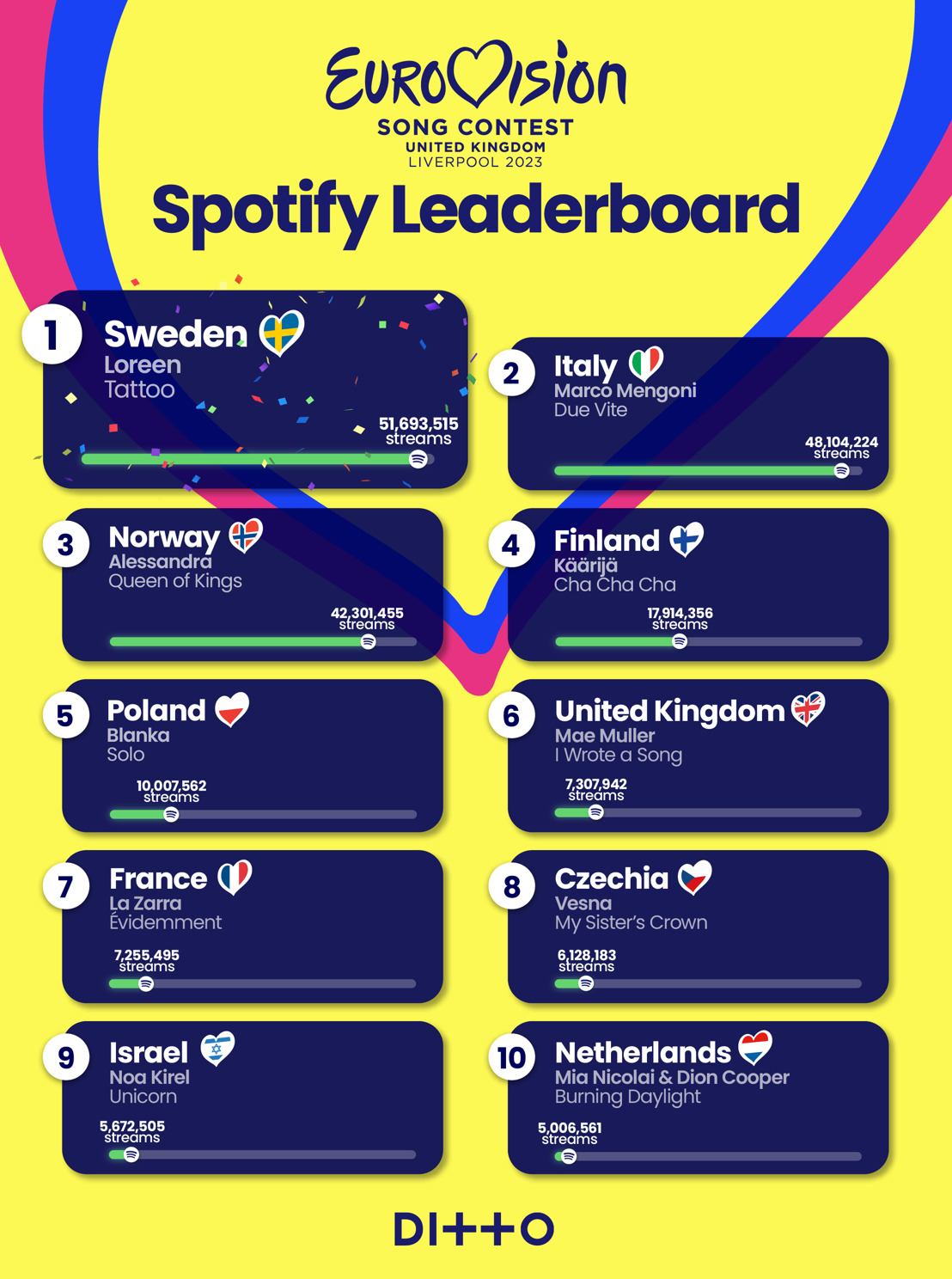 Sweden will win Eurovision Song Contest 2023 (and UK finish 6th) according to Spotify streams
Will Eurovision Song Contest's final results reflect the songs' popularity on Spotify?
Liverpool-based music distribution company Ditto Music has today released estimations on which country will be crowned Eurovision Song Contest winner based on their entry's Spotify streaming numbers.
Streaming figures suggest that Sweden's Loreen will take the top spot with their single Tattoo, which has racked up 51,693,515 Spotify streams.
Italy's Marco Mengoni and Norway's Alessandra follow slightly behind on 48,104,224 and 42,301,455 streams respectively, while the UK's Mae Muller sits in 6th with 7,307,942 streams for her track I Wrote a Song.*
"Spotify's influence on the music industry cannot be overlooked and it's fascinating to observe its impact on a global stage like Eurovision. Eurovision is well-known for its surprises and we're thrilled to see it land in Liverpool, so it will be intriguing to see just how closely Spotify popularity aligns with the final results."
​
​- Lee Parsons, Ditto Music CEO.
Co-founder of Ditto Music, Lee Parsons is a prominent figure within the independent music and music technology sectors. Launching Ditto back in 2005 with his brother Matt, Lee is also founder and CEO of music blockchain business Opulous. Keep up to date with him on Twitter.
Lee is also available for further comment on this research upon request at [email protected].
*Streaming figures are accurate as of the week leading up to the Eurovision Song Contest Final 2023.
---
Ditto Music is a Liverpool-based global music distribution, record label and artist management company. For more information about Ditto and its services, visit the company's website at dittomusic.com or reach out to [email protected].

Lee Parsons CEO, Ditto Music

Jordan Hetherington Press Officer, Ditto Music