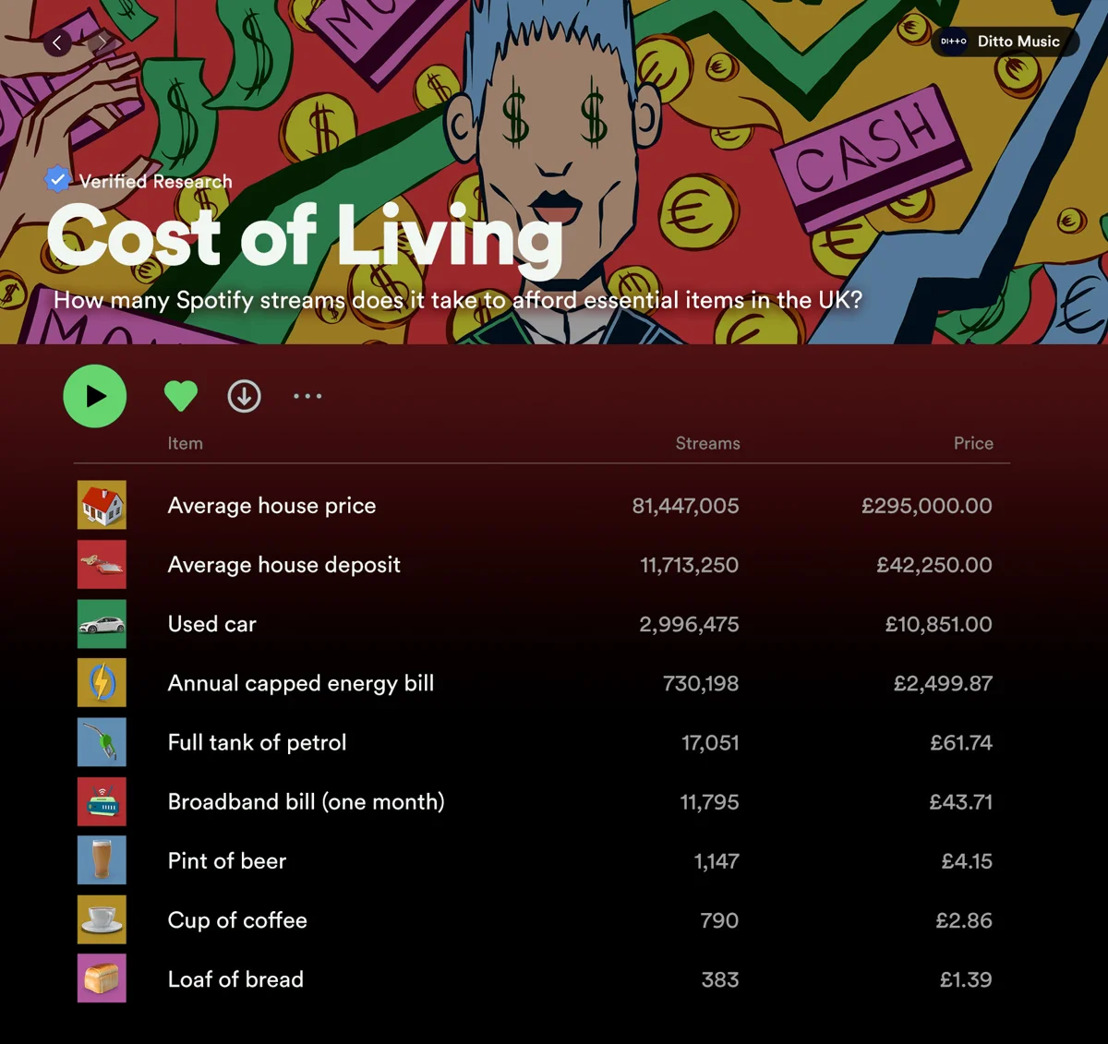 Musicians need over 730,000 Spotify streams to cover the 2023 UK energy bill
Can Spotify payments alone carry musicians through a cost of living crisis?
Music distribution company Ditto Music has today released estimations on how many Spotify streams it takes to afford essential items in the UK.
Ditto's findings show that musicians need to generate approximately 11,713,250 Spotify streams to put down the UK average house deposit of £42,250 - with the new annual energy bill requiring around 730,198 digital streams.
"Spotify's announcement that over 17k artists now earn over $50k a year from Spotify alone is really encouraging to hear during this cost of living struggle. But ongoing price increases and inflation are continuing to affect everyone in 2023, and independent artists are being hit especially hard."
​
​- Matt Parsons, Ditto Music CEO
Co-founding Ditto Music with brother Lee back in 2005, Matt Parsons is a prominent figure within the music and technology sectors. Matt has led Ditto in helping artists and independent labels release, distribute and promote their music across the globe.
Matt is also available for further comment on this research upon request at [email protected].
---
Further findings show that artists need to accumulate around 2.95 million Spotify streams to purchase the average used car, and another 17,000 to fill it with a full tank of fuel. These estimated figures were calculated using Ditto's Spotify Royalty Calculator.
For further information on this, reach out to Ditto's Press Team at [email protected].

Matt Parsons CEO, Ditto Music

Jordan Hetherington Press Officer, Ditto Music