Liverpool is the best city to live in for musicians…according to AI 
Merseyside city ranks most affordable on ChatGPT's list of best places to live when compared with the cost of living index. 
Liverpool-based music distribution & artist services company Ditto Music has compared Artificial Intelligence platform ChatGPT results with cost of living index information to suggest that Liverpool is the best city for independent musicians to live in within the UK in 2023.
When asked where the best place to live as an independent musician was, ChatGPT caveated its results with "the best city in the UK for an independent musician can vary depending on your personal preferences, music style, and career goals. However, some cities are known for their vibrant music scenes and opportunities for independent musicians".
After diving deeper into where these cities rank on the cost of living index, Ditto has produced its own rankings as seen below.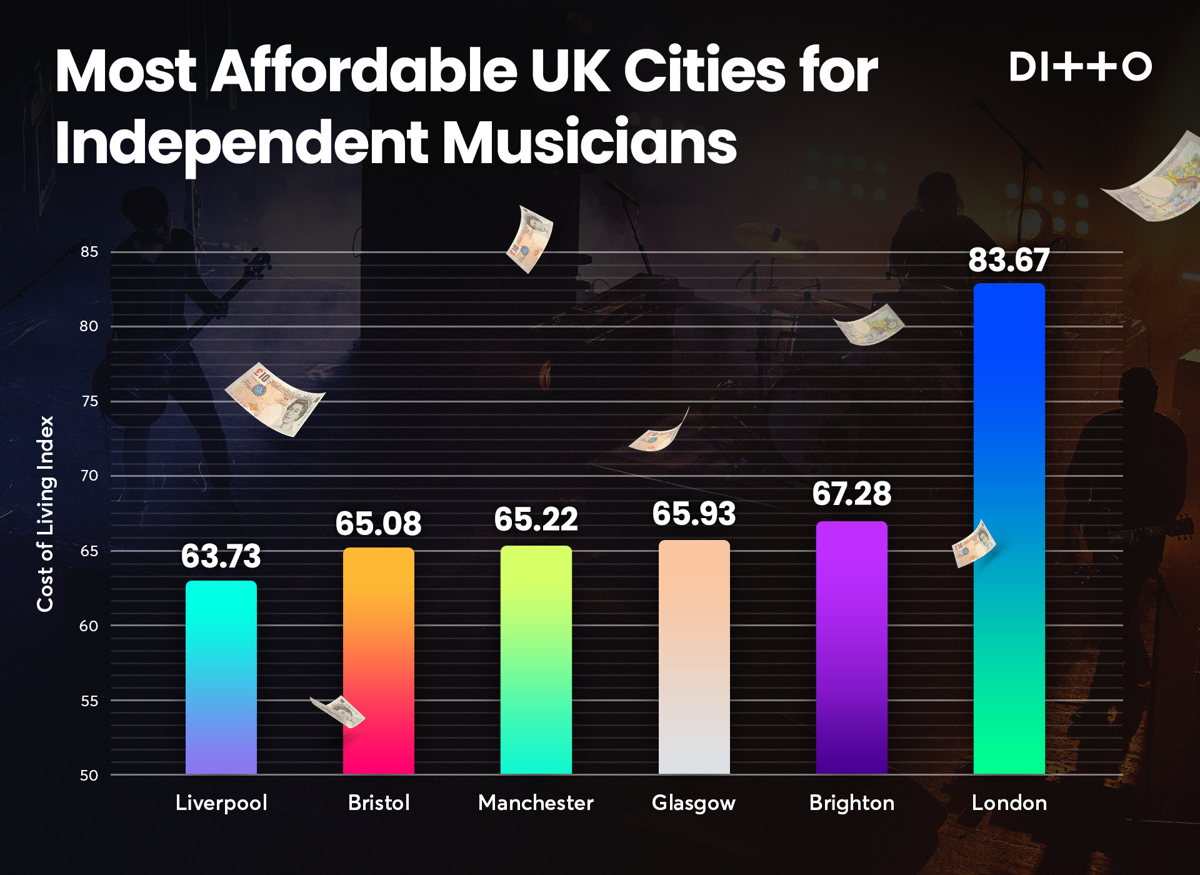 Despite originally landing 5th on the AI-generated results, Liverpool finds itself as the most affordable city to live in according to the latest cost of living index, with London taking the crown as the most expensive UK location on the list.
"It comes as no surprise to us that Liverpool is one of the best places for independent artists to live in. The city's unique blend of thriving music culture and history, teamed with the supportive artistic community truly makes it the ideal city for independent artists to call home and played a key part in us setting up Ditto HQ here all those years ago."
​
​Lee Parsons, Ditto Music CEO.
With many factors influencing where independent musicians want to base themselves, affordability plays a key part in forming decisions. Liverpool's lower cost of living ranking is a huge draw to musicians looking to live in a thriving city without having to pay the same rates as London or other major music cities.
ChatGPT results also suggested that Nashville would be the best place for global independent artists to base themselves, but the US city's 80.2 cost of living ranking suggests that it may outprice independent artists on a budget front.
---
For more information on Ditto's findings and to learn more about the company's services, reach out to [email protected].

Lee Parsons CEO, Ditto Music

Jordan Hetherington Press Officer, Ditto Music