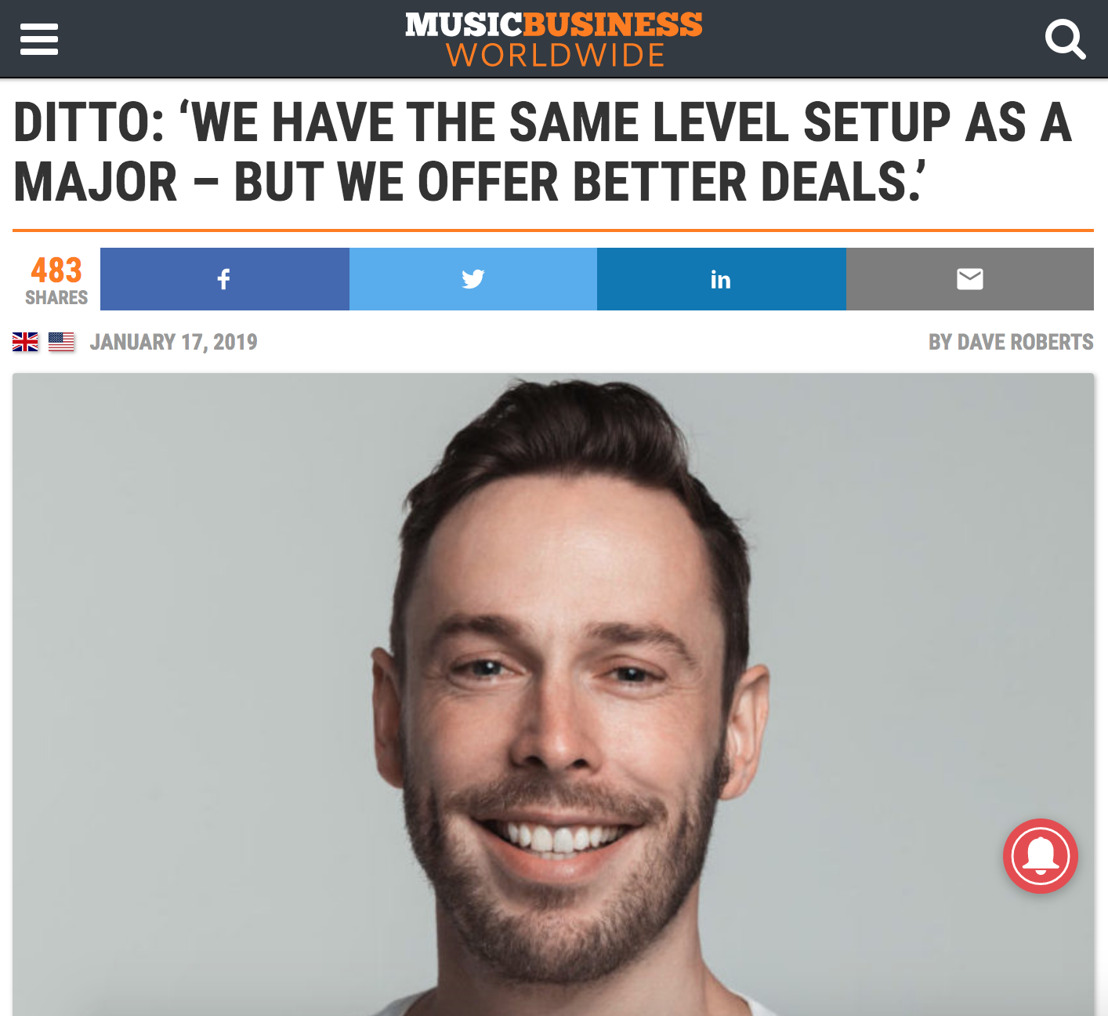 DITTO: 'We Have The Same Level Setup as a Major – But We Offer Better Deals.'
Music Business Worldwide feature
At one point in this MBW interview with Ditto co-founder and CEO Lee Parsons, it sounds like he says, "The long-term plan is to build Ditto into a major; it always has been."
But he can't have done. He's just been, not exactly bashing the big labels, but explaining why Ditto is based and built on a different culture and different priorities.
Something doesn't tally. Until the clarification: "When I say a 'major', I don't mean anything like the current models; I mean a better choice on the same scale."
Now it makes sense. Ditto is no longer (if it ever was) content to be perceived as a starting point, or stepping stone. It isn't a route to the majors; it's an alternative to the majors.
And with a growing worldwide presence, now in 20 countries, the UK-born distribution and services company is consistently helping to break globally significant acts – having recently worked with artists including Chance The Rapper, Ian Brown, Flohio, The Ting Tings, P Money, Dave and Tash Sultana.
---
Parsons claims: "If you want to have the same level setup that a major label has, from playlist influence to graphic designers and digital marketing to radio pluggers and press, we have all that – but we'll also give you a better deal than any major label will, plus we'll work harder and we'll work smarter.
"The main difference between Ditto and a major label is that if you sign a domestic deal with a major in your market, then you often aren't promoted outside of that market, especially if you sign outside the US. We work as a global team and have local reps in each country, so we are pushing releases internationally as well as domestically."
He adds: "It's competitive, of course, because a major label will always rock up and offer 10-times what a song's worth, just to buy that market share. Our focus is more long term."
He says that he hears similar thoughts and concerns from artists. "What happens is, they take the [record company] advance and then discover that what their label really wants is market share. The artists go for meetings and they say, 'We talked about the back-catalog and their tails were wagging the whole time, but nobody asked me about what I wanted to do for the next 10 years; that didn't seem as important.'
"If you're an artist that thinks long-term and you want to work with a team who are dedicated to actively growing your music, we think Ditto's for you."