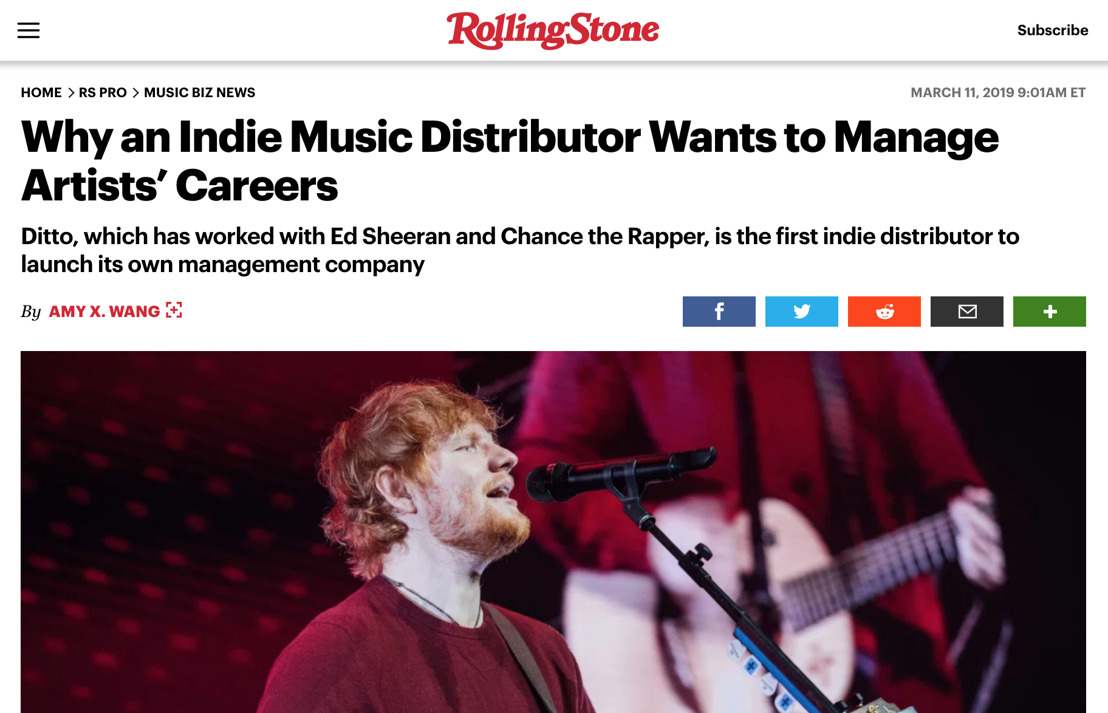 Ditto Music Launches Artist Management Company
Rolling Stone feature
Ditto Music has made a name for itself over the last decade as an indie music distribution service used by artists from Ed Sheeran to Stormzy to Chance the Rapper. It's now ready to expand, and the direction of its growth offers a good insight into the trajectory of the music business at large: On Monday, Ditto becomes the first indie distributor to offer artist management services.
The U.K.-based company will add Ditto Management as a standalone management firm available to artists around the world, and acts already on the roster include Big Zuu, DJ Nathan Dawe, R&B artist Bobbi Lewis and singer-songwriter Nathan Brooks.
Ever since Ditto launched as a distributor in 2006, "there were so many artists that we saw and felt like were an opportunity passing by," Ditto CEO Lee Parsons tells Rolling Stone, adding that the idea of a management arm has been in the works for several years. "We saw artists coming through who were awesome, but we didn't have much to do with them apart from distribution. We'd see them take other management deals. But it's a very different skill to manage artists, so we had to find who I think is the best manager in London."
His pick is Matt Dodds, formerly an A&R manager at U.K.-based Jem Music Group, who will run Ditto Management — a service that will operate as a separate entity, available but not mandatory for artists who go through Ditto's core distribution service.
"My vision is that artists will use Ditto to get their music up on Spotify and Apple Music, and we can work with some of them and keep hold of them," Dodds tells Rolling Stone. "If you have a management company as part of your service, it means you can find those artists, the Ed Sheerans and the Sam Smiths, and nurture them from an early stage."