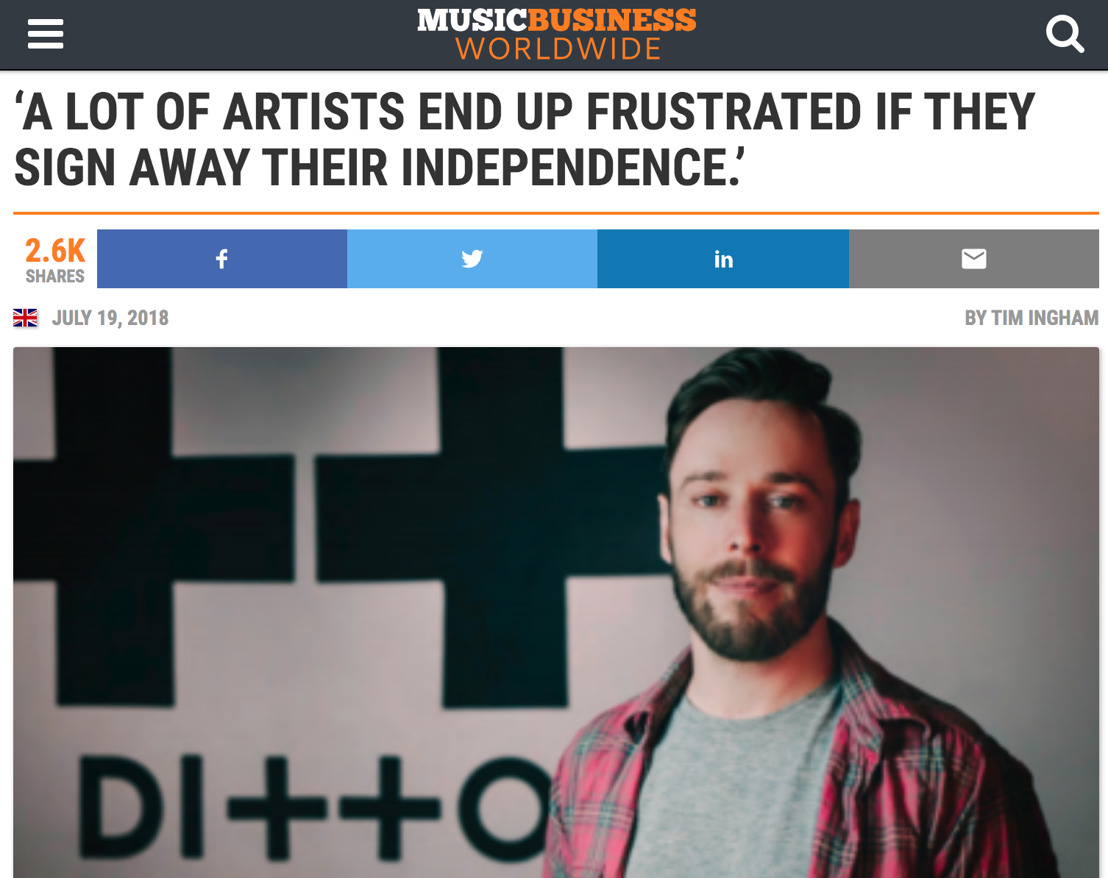 Ditto Music CEO Lee Parsons on the Company's Rise to Success.
Interview with Music Business Worldwide.
If you got in touch with Ditto Music a decade ago, you might have ended up with a bouncy castle. If you get in touch with Ditto Music today, you might end up with a global hit.
The fast-growing music distribution and services company was founded in January 2007 by brothers Lee and Matt Parsons from a flat in Smethwick, Birmingham – accommodation, recalls Lee, which sat under a densely-populated apartment packed with people "smoking crack all day".
Back then, Ditto wasn't just a music company: Lee and Matt ran a range of businesses from their humble abode, including a window cleaning operation, a computer repair service – and a bouncy castle hiring company.
Anything, basically, to pay the rent.
"We had one mobile phone and when people called we didn't know if they'd want window cleaning, a bouncy castle or their computer fixed," says Lee (pictured). "So when we eventually launched the music company, we just started saying, 'Hello Ditto' to anyone who called the phone. That covered all bases."
---
Today, following a year of accelerated worldwide expansion, the Birmingham-born, Liverpool-HQ'd Ditto is a truly independent British success story – and it's still fully owned by the Parsons brothers.
The firm was recently named the No.48 fastest-growing company in the UK by The Sunday Times – while the same newspaper placed Ditto at No.26 in its league table of British SMEs with the fastest-growing international sales. (None of these sales, you might have guessed, were of bouncy castles.)
With 19 offices around the world – in addition to an A&R presence in hip-hop hotbed Atlanta – Ditto is now truly one of the premier independent distribution/services companies worldwide.
The firm runs three offices in the US alone – in New York, Nashville and Los Angeles – where it recently pinched TuneCore's respected Senior Director of Entertainment Relations, Chris Mooney, to head up countrywide operations from NYC.
There have also been recent office openings in the Philippines, Brazil, Argentina, South Africa, The Nordics, Mexico and India.
---
In its first five years, Ditto welcomed the early recordings from some huge names through its platform, including the likes of Ed Sheeran, Sam Smith and Royal Blood.
All of these acts, however, then jumped to major label deals in order to take their careers to the next level.
Since then, Ditto has become more tenacious about encouraging artists to remain independent, and stay the course within its system. That's why the firm takes its expanding global presence quite so seriously – with an A&R force in every market in which it operates – and has recently bulked up the level of service it can offer artists.
It's should be no great surprise, then, that Ditto has become a go-to distribution partner for the UK's hottest urban music artists.
Stormzy (pictured inset) released breakthrough Top 10 single Shut Up through the company in 2015, before signing with ADA, while other leading lights such as MoStack, Hardy Caprio and MIST have also turned to the firm to boost their careers.
And today (July 19), the company took things to the next level: Ditto is now the official digital distribution partner for Chance The Rapper's new material.
READ THE FULL STORY ON MUSIC BUSINESS WORLDWIDE